What you need to know
It is common for all University departments and University commercial activities (e.g. gift receipts, publications, advertising, etc.) to share the same tax details, but sometimes they may have separate bank accounts and remit to information.
If your department is formed under a unique tax ID, then you will create a separate company profile listing on graphiteConnect. See Accepting an invitation from your customer for basic instructions.
Otherwise, the following should help you understand how to create a single University profile that accounts for variations in banking and remit to instructions.
1. Company Name
The Legal Company Name should be the name of your University, not the name of your department or commercial activity. This must match the tax records for your Country of Registration.
For example, in the United States, the Legal Company Name must match the tax ID (per the IRS) and can often be found on the W9.
2. University details
All general information should be about the University, not your department. To set this up correctly, the primary address under Company Location should be the main University address. The contact details under Sales, Order, Invoice, and Payment Instructions would include that address, plus generic contacts for each of those items. Product and Services details should encompass University-wide details.
3. Department specifics
If you have different Remit To contact details depending on department or commercial activity, add these in Company Locations. Use the Location Name to identify the specific department or product/service.
When you select the Remit To checkbox, you are able to add the specific Remit To details for your department or product/service. Please note: Each company you connect with will have the ability to select a unique Remit To for each relationship they have with you.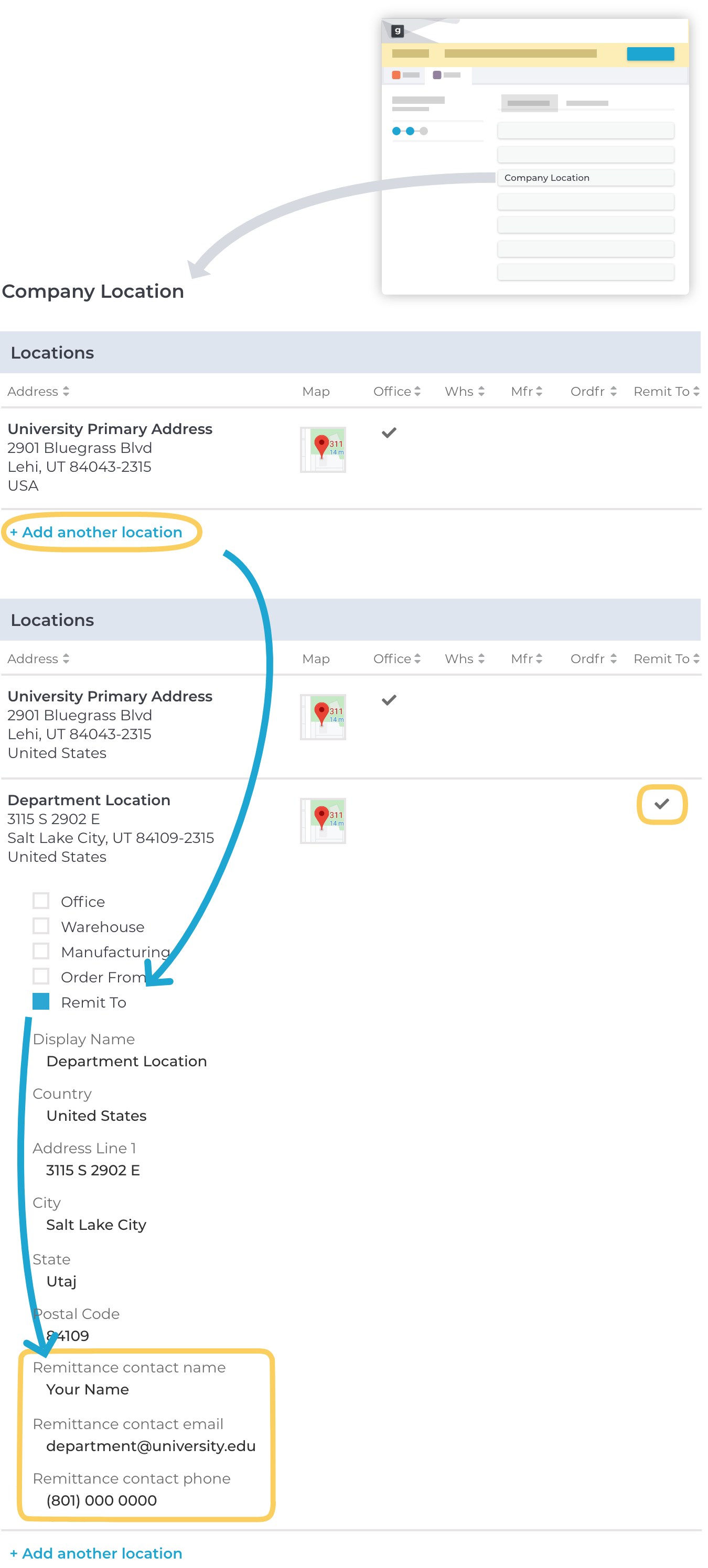 4. Multiple bank accounts
Especially when a University accepts gifts in addition to selling products or services, it is likely that multiple bank accounts will be required for receiving funds. Add additional bank accounts under the Sales, Order, Invoice, and Payment Instructions section, making sure you indicate when that specific account should be used.
Do not delete bank accounts that may be in use for other departments. Remember this company profile is shared across all departments and commercial activities.
Just like the Remit To selection, the company's you connect with will select which banking account should be associated with each Remit To option.
5. Managing multiple users
Just like all companies, the first user to create the company profile becomes the de facto administrator of the account. Additional users can be added via the Admin page. See Adding New Users to get started.