Per US Internal Revenue Service regulations, W-8BEN and W-8BEN-E forms generally expire three years after they are signed. If the form you uploaded to graphiteConnect was signed in the year 2018 or before, it is now expired. In addition, the IRS has introduced a new version of the form which is dated October 2021 (see upper left-hand corner of the form).
Per IRS regulations, previous versions expire six months after the introduction of a new form. Accordingly, any versions prior to October 2021 will expire April 30, 2022 regardless of signature date.
You can obtain new October 2021 versions of the W-8BEN here: https://www.irs.gov/pub/irs-pdf/fw8ben.pdf or W-8BEN-E here: https://www.irs.gov/pub/irs-pdf/fw8bene.pdf.
Delete the old form and upload the new, completed and signed form in graphiteConnect in the US Taxes section of the Tax Information topic in Company Overview here: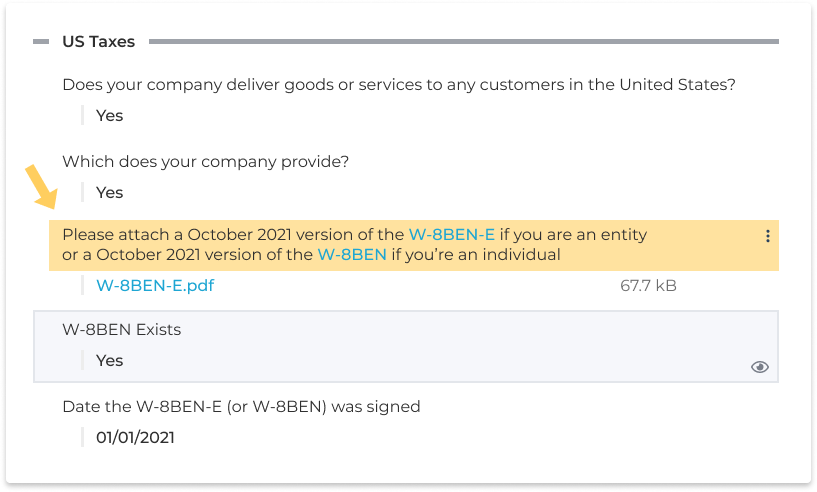 How to delete a W-8 and upload a new one
1. Click on the 3 dots to the right of the W-8 and select "Edit"
2. Delete the existing file by clicking on the trash bin icon

The previous W-8 file is now deleted.
3. Drag your new file or click browse to upload a new W-8
Click the Save button when you are done.
Note that once you upload the new form, all your connected customers in the Graphite network will be notified. Failure to update your IRS W-8BEN/W-8BEN-E may result in your customer(s) withholding additional US taxes from your payments. Thank you for your cooperation in keeping your data profile up-to-date.
If you have any questions or concerns, please contact us at support@graphiteconnect.com